Looks like I'm not alone in wanting to #FreetheDelegates.  On Monday, I penned an open letter to Wisconsin delegates to the RNC convention.  I encouraged them to do the right thing and keep Donald Trump from becoming our party's nominee. 
Several delegates and alternates have let me know, privately, how much they appreciated my efforts. Some even shared my letter and commented about it on social media.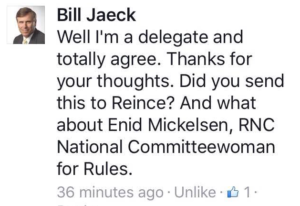 Tuesday morning I was on Charlie Sykes' show discussing the letter, then a few hours later Governor Walker was quoted in this Washington Post story saying he, too, believes delegates should "vote their conscience," making him one of the most prominent Republicans to publicly say it.
…he also left open the possibility that the rules could change between now and the convention next month, and gave credence to House Speaker Paul Ryan's comments from last week that delegates should vote their conscience.

"I think his comments are legitimate," Walker said. "I think historically, not just this year, delegates are and should be able to vote the way they see fit. … We'll see how things go between now and the convention as to what the next steps are. I'm not going to speculate now only because you all know the situation may change by this afternoon, let alone between now and the convention."
I'd say "Dump Trump" is picking up steam.  This is not a highly-organized effort, rather a reflection of grassroots angst regarding this incredibly flawed nominee. It is still a long shot and it will take a few weeks for anything to really gain traction among the delegates. Many will be nervous to discuss the possibility. But  over at National Review they're explaining how it could all go down at the convention.
Delegates to the Republican National Convention have had, at every convention from 1856 through 2012, the full freedom to vote their consciences on all matters recognized and protected in the convention rules — with the single notable exception of 1976…

The task before the rebellious anti-Trump delegates is considerable. They first need to get 57 members of the 112-member Rules Committee to affirm that they may vote their consciences and reject the candidate they have pledged to support. It is, thus, conceivable that the Rules Committee might side with insurgent anti-Trump delegates. BUT . . .   . . . The rules decided upon by the Rules Committee must then be ratified by 1,237 of the 2,472 delegates.

Developing…..